Lawson View Townhomes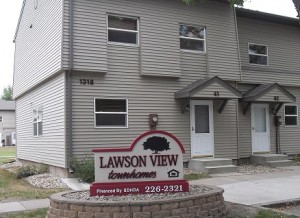 The Lawson View Townhomes include two, three, and four bedrooms. The townhomes are furnished with a stove, refrigerator, air conditioner, dishwasher, and washer and dryer hook-ups located in the basement.
The rent is based on 30% of the tenant's adjusted income. The tenant is responsible for paying his or her own electricity with assistance through a utility allowance. Service animals are allowed if the proper documents are received by AHA.
Click on the bedroom size below to see a video of that apartment.
Income Limits
Your income must be BELOW the income limit for the amount of people in the household in order to qualify.
| | | | | | | | |
| --- | --- | --- | --- | --- | --- | --- | --- |
| 1 person | 2 people | 3 people | 4 people | 5 people | 6 people | 7 people | 8 people |
| $39,900 | $45,600 | $51,300 | $56,940 | $61,500 | $66,060 | $70,620 | $75,180 |
How to Apply
To apply for an Aberdeen Housing Authority Program please click on the Pre-Application you would like below.  Once finished, you will be given a confirmation number and that is the verification that the pre-application has been submitted for approval.
An applicant will be Denied if:
*You owe money to AHA or another public housing authority.
*A household member has been convicted of certain criminal activity.
Waiting List Information
All new applicants must fill out the Aberdeen Housing Authority's application. After the entire application is filled out and the proper information is turned in, the new applicant is placed on the chosen program's waiting list. This is a first come, first serve basis depending on individual qualifications. The applicant will be mailed a letter stating that they have reached the top of the waiting list when his or her turn has arrived. All waiting lists vary and the AHA can not predict how long it will be before a unit is available.
Applicant Responsibilities
After you have completed an application and have been placed on the waiting list, it is your responsibility to notify the office if:
Your mailing address changes; or
Your family size changes; or
You no longer wish to be on the Aberdeen Housing Authority waiting list.
NOTE:  If AHA correspondence is returned because of an incorrect address, your application will be removed from our waiting list and you will need to reapply.